Alloy Steel Truck Parts by Sand Casting and CNC Machining
Product Detail
Product Tags
Sand casting is a tranditional but also modern casting process. It uses green sand (moist sand) or dry sand to form the molding systems. The green sand casting is the oldes casting process used in history. When making the mold, the patterns made of wood or metal should be produced in order to form the hollow cavity. The molten metal then pour into the cavity to form the castings after cooling and solidification. Sand casting is less expensive than other casting processes both for mold development and unit casting part. The sand casting, always mean the green sand casting (if no special description). However, nowadays, the other casting processes are also use the sand to make the mold. They have their own names, such as shell mold casting, furan resin coated sand casting (no bake type), lost foam casting and vacuum casting. 
The Advantages of Sand Casting:
✔ Lower Cost due to its cheap and recyclable mold materials and simple production equipment.
✔ Wide range of unit weight from 0.10 kg to 500 kgs or even bigger.
✔ Various Structure from simple type to complex type.
✔ Suitable for production requirements of various quantity.
Sand Casting Capabilities at RMC Foundry

Description

Molding by hand

Molding by Automatic Machines

Max size of Castings

1,500 mm × 1000 mm × 500 mm

1,000 mm × 800 mm × 500 mm

Casting Weight Range

0.5 kg - 1,000 kg

0.5 kg - 500 kg

Annual Capacity

5,000 tons - 6,000 tons

8,000 tons - 10,000 tons

Casting Tolerance

On Request or Standard (ISO8062-2013 or GB/T 6414-1999)

Molding Materials

Green Sand, Resin Coated Sand

Casting Metal & Alloys

Gray Iron, Ductile Iron, Cast Steel, Stainless Steel, Al Alloys, Brass, Bronze...etc. 
Tolerance That Sand Castings Achieve:
The casting tolerances are divided into Dimensional Casting Tolerances (DCT) and Geometrical Casting Tolerances (GCT). Our foundry would like to talk with you if you have special request on the required tolerances. Here in the following are the general tolerances grade we could reach by our green sand casting, shell mould casting and no-bake furan resin sand casting:
✔ DCT Grade by Green Sand Casting: CTG10 ~ CTG13
✔ DCT Grade by Shell Mold Casting or Furan Resin Sand Casting: CTG8 ~ CTG12
✔ GCT Grade by Green Sand Casting: CTG6 ~ CTG8
✔ GCT Grade by Shell Mold Casting or Furan Resin Sand Casting: CTG4 ~ CTG7
Metal & Alloys Grade for Sand Casting Processes

Metal & Alloys

Popular Grade

Gray Cast Iron

GG10~GG40; GJL-100 ~ GJL-350; 

Ductile (Nodualar) Cast Iron

GGG40 ~ GGG80; GJS-400-18, GJS-40-15, GJS-450-10, GJS-500-7, GJS-600-3, GJS-700-2, GJS-800-2

Austempered Ductile Iron (ADI)

EN-GJS-800-8, EN-GJS-1000-5, EN-GJS-1200-2

Carbon Steel

C20, C25, C30, C45

Alloy Steel

20Mn, 45Mn, ZG20Cr, 40Cr,   20Mn5, 16CrMo4, 42CrMo,




40CrV, 20CrNiMo, GCr15, 9Mn2V

Stainless Steel

Ferritic Stainless Steel, Martensitic Stainless Steel, Austenitic Stainless Steel, Precipitation Hardening Stainless Steel, Duplex Stainless Steel

Aluminium Alloys

ASTM A356, ASTM A413,  ASTM A360

Brass / Copper-based Alloys

C21000, C23000, C27000, C34500, C37710, C86500,  C87600, C87400, C87800,  C52100, C51100

Standard: ASTM, SAE, AISI, GOST, DIN, EN, ISO, and GB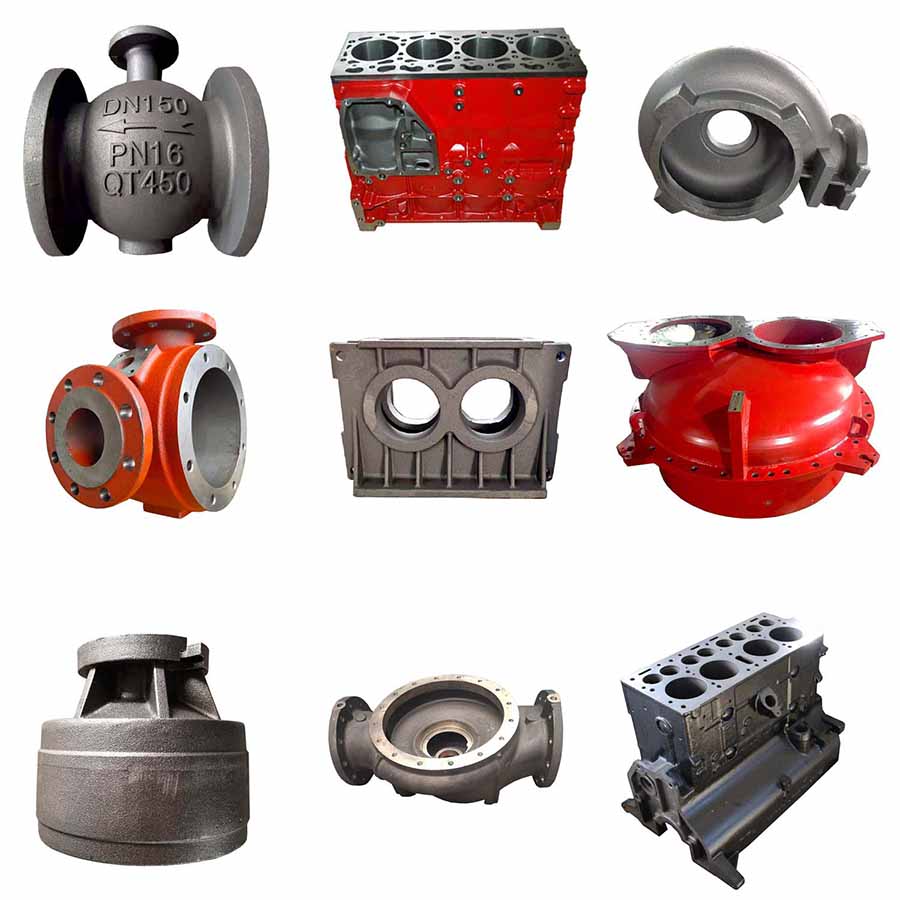 Custom Sand Castings of Cast Iron
---
Previous:
Alloy Steel Casting by Sand Mold Casting
---