Investment Casting of Carbon Steel
Product Detail
Product Tags
China OEM custom carbon steel castings by lost wax investment casting process. We could provide 3.1 Material Certificate of the casting metal according to EN 10204 if you need. Available inspection methods: dimension testing by CMM, non-destructive testing, chemical composition, mechanical properties, hardness testing, static balancing, dynamic balancing, air pressure and water pressure.
According to the level of carbon content, carbon steel for casting is generally divided into low carbon steel, medium carbon steel and high carbon steel. The cast carbon steels of all countries in the world are generally classified according to their strength, and corresponding grades are formulated.
Regarding the chemical composition of carbon steel, except for phosphorus and sulfur, there are no restrictions or only upper limits on other chemical elements. Under the above premise, the chemical composition of cast carbon steel is determined by the foundry according to the required mechanical properties.
The heat treatment methods of carbon steel castings are usually annealing, normalizing or normalizing + tempering. For some high carbon steel castings, quenching and tempering can also be used, that is, quenching + high temperature tempering, so as to improve the comprehensive mechanical properties of carbon steel castings. Small carbon steel castings can be directly quenched and tempered from the as-cast state. For large-scale or complex-shaped carbon steel castings, it is appropriate to perform quenching and tempering treatment after normalizing treatment.
Cast Carbon Steel Grade Comparison

No.

China

Japan

U.S.A.

ISO

Germany

France

Russia гост

Sweden SS

Britain

GB

JIS

ASTM

UNS

DIN

W-Nr.

NF

BS

1

ZG200-400 (ZG15)

SC410 (SC42)

415-205 (60-30)

J03000

200-400

GS-38

1.0416

-

15л

1306

-

2

ZG230-450 (ZG25)

SC450 (SC46)

450-240 965-35)

J03101

230-450

GS-45

1.0446

GE230

25л

1305

A1

3

ZG270-500 (ZG35)

SC480 (SC49)

485-275 (70-40)

J02501

270-480

GS-52

1.0552

GE280

35л

1505

A2

4

ZG310-570 (ZG45)

SCC5

(80-40)

J05002

-

GS-60

1.0558

GE320

45л

1606

-

5

ZG340-640 (ZG55)

-

-

J05000

340-550

-

-

GE370

-

-

A5
Capabilities of Investment Casting Foundry:
• Max Size: 1,000 mm × 800 mm × 500 mm
• Weight Range: 0.5 kg - 100 kg
• Annual Capacity: 2,000 tons
• Bond Materials for Shell Building: Silica Sol, Water Glass and their mixtures.
• Tolerances: On Request.
Advantages of Investment Casting Components:
- Excellent and smooth surface finish
- Tight dimensional tolerances.
- Complex and intricate shapes with design flexibility
- Capability to cast thin walls therefore a lighter casting component
- Wide selection of cast metals and alloys (ferrous and non-ferrous)
- Draft is not required in the molds design.
- Reduce the need for secondary machining.
- Low material waste.
Materials for Investment Casting Process at RMC Foundry

Category

China Grade

US Grade

Germany Grade

Ferritic Stainless Steel

1Cr17, 022Cr12, 10Cr17, 

430, 431, 446, CA-15, CA6N, CA6NM

1.4000, 1.4005, 1.4008, 1.4016, GX22CrNi17, GX4CrNi13-4

Martensitic Stainless Steel

1Cr13, 2Cr13, 3Cr13, 4Cr13, 

410, 420, 430, 440B, 440C

1.4021, 1.4027, 1.4028, 1.4057, 1.4059, 1.4104, 1.4112, 1.4116, 1.4120, 1.4122, 1.4125

Austenitic stainless steel

06Cr19Ni10, 022Cr19Ni10,




06Cr25Ni20, 022Cr17Ni12Mo2, 03Cr18Ni16Mo5

302, 303, 304, 304L, 316, 316L,   329, CF3, CF3M, CF8, CF8M, CN7M, CN3MN

1.3960, 1.4301, 1.4305, 1.4306, 1.4308, 1.4313, 1.4321, 1.4401, 1.4403, 1.4404, 1.4405, 1.4406, 1.4408, 1.4409, 1.4435, 1.4436, 1.4539, 1.4550, 1.4552, 1.4581,




1.4582, 1.4584, 

Precipitation Hardening Stainless Steel

05Cr15Ni5Cu4Nb, 05Cr17Ni4Cu4Nb

630, 634, 17-4PH, 15-5PH,  CB7Cu-1

1.4542

Duplex Stainless Steel

022Cr22Ni5Mo3N, 022Cr25Ni6Mo2N

A 890 1C, A 890 1A, A 890 3A, A 890 4A, A 890 5A,




A 995 1B, A 995 4A, A 995 5A, 2205, 2507

1.4460, 1.4462, 1.4468, 1.4469, 1.4517, 1.4770

High Mn Steel

ZGMn13-1, ZGMn13-3, ZGMn13-5

B2, B3, B4

1.3802, 1.3966, 1.3301, 1.3302

Tool Steel

Cr12

A5, H12, S5

1.2344, 1.3343, 1.4528, GXCrMo17,   X210Cr13, GX162CrMoV12

Heat Resistant Steel

20Cr25Ni20, 16Cr23Ni13,




45Cr14Ni14W2Mo

309, 310, CK20, CH20, HK30

1.4826, 1.4828, 1.4855, 1.4865

Nickle-base Alloy

 

HASTELLY-C, HASTELLY-X,  SUPPER22H, CW-2M, CW-6M, CW-12MW, CX-2MW, HX(66Ni-17Cr), MRE-2, NA-22H, NW-22,  M30C, M-35-1, INCOLOY600,




INCOLOY625

2.4815, 2.4879, 2.4680

Aluminum




Alloy

ZL101, ZL102, ZL104

ASTM A356, ASTM A413,  ASTM A360

G-AlSi7Mg, G-Al12

Copper Alloy

H96, H85, H65, HPb63-3,




HPb59-1, QSn6.5-0.1, QSn7-0.2

C21000, C23000, C27000, C34500, C37710, C86500,  C87600, C87400, C87800,  C52100, C51100

CuZn5, CuZn15, CuZn35, CuZn36Pb3, CuZn40Pb2, CuSn10P1, CuSn5ZnPb, CuSn5Zn5Pb5

Cobalt-base Alloy

 

UMC50, 670, Grade 31

2.4778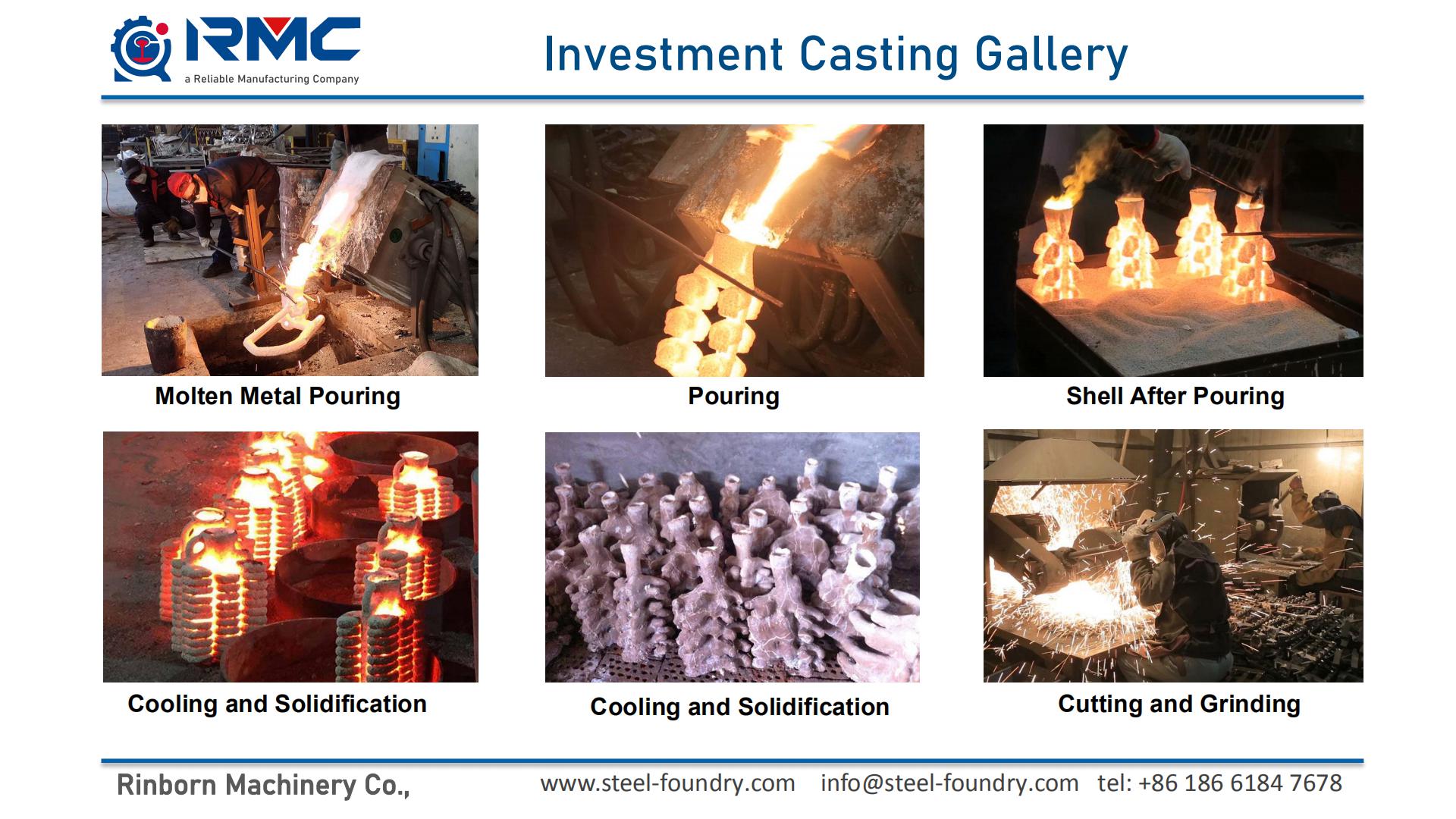 INVESTMENT CASTING TOLERANCES

Inches

Millimeters

Dimension

Tolerance

Dimension

Tolerance

Up to 0.500

±.004"

Up to 12.0

± 0.10mm

0.500 to 1.000"

±.006"

12.0 to 25.0

± 0.15mm

1.000 to 1.500"

±.008"

25.0 to 37.0

± 0.20mm

1.500 to 2.000"

±.010"

37.0 to 50.0

± 0.25mm

2.000  to 2.500"

±.012"

50.0 to 62.0

± 0.30mm

2.500 to 3.500"

±.014"

62.0 to 87.0

± 0.35mm

3.500 to 5.000"

±.017"

87.0 to 125.0

± 0.40mm

5.000 to 7.500"

±.020"

125.0 to190.0

± 0.50mm

7.500 to 10.000"

±.022"

190.0 to 250.0

± 0.57mm

10.000 to 12.500"

±.025"

250.0 to 312.0

± 0.60mm

12.500 to 15.000

±.028"

312.0 to 375.0

± 0.70mm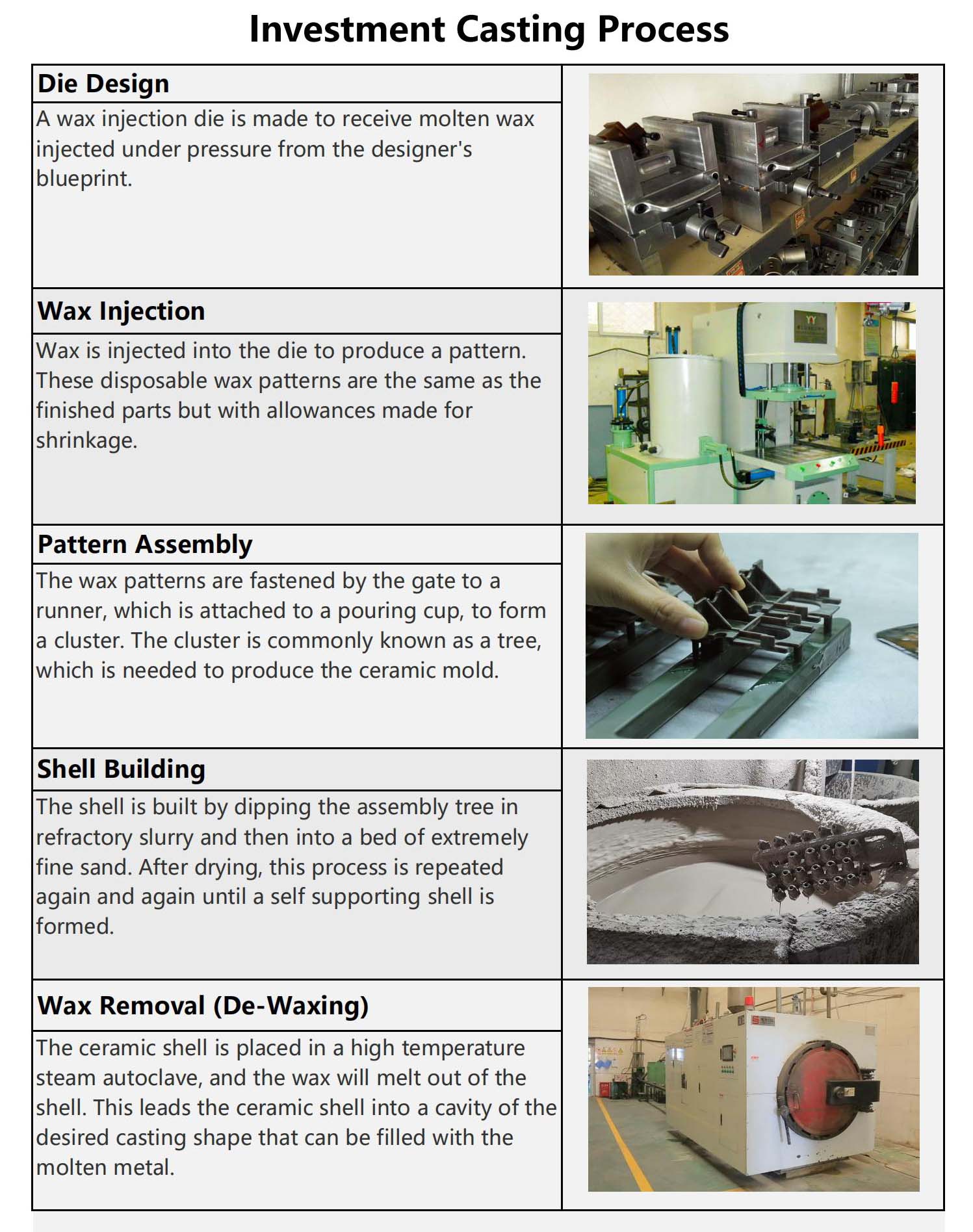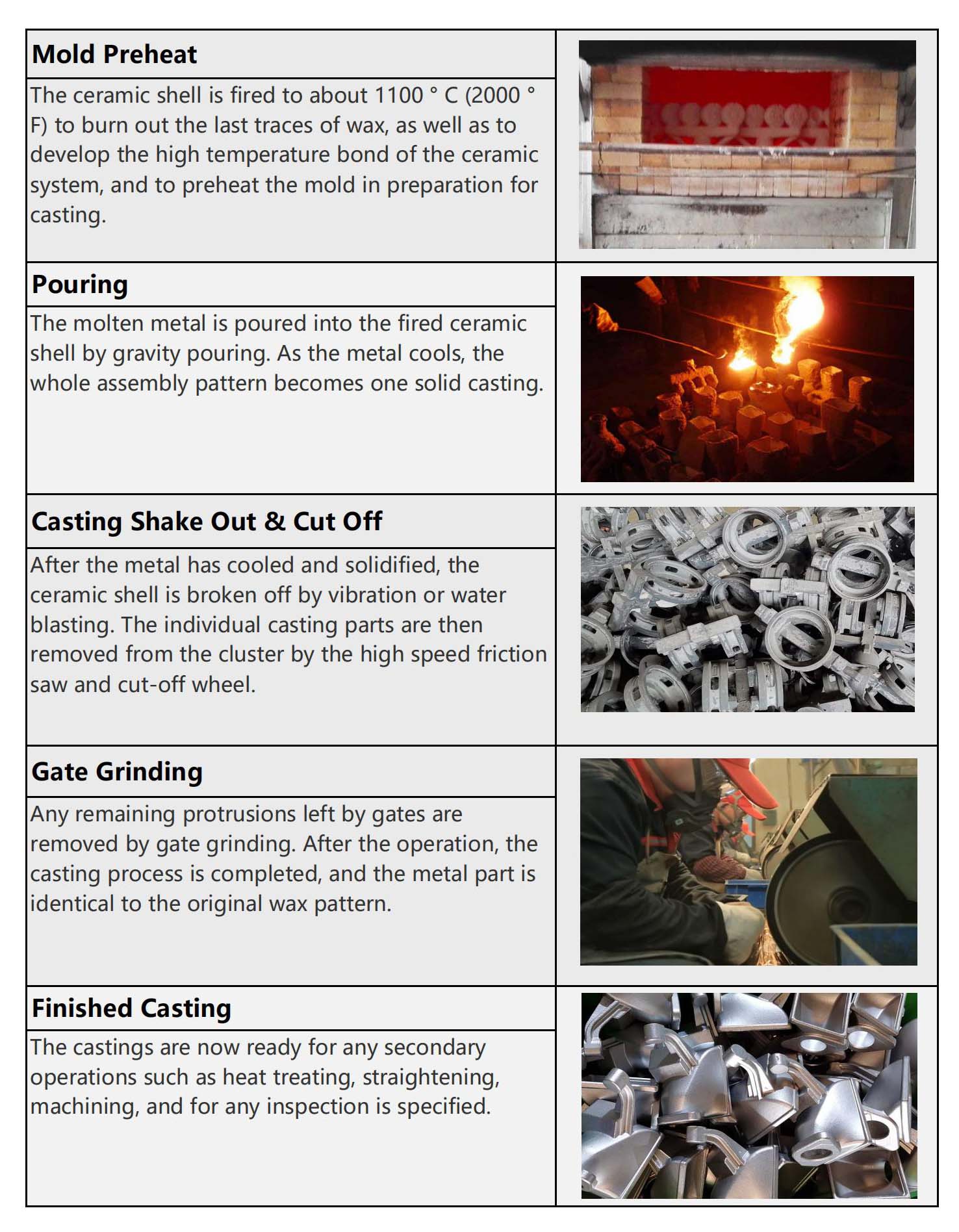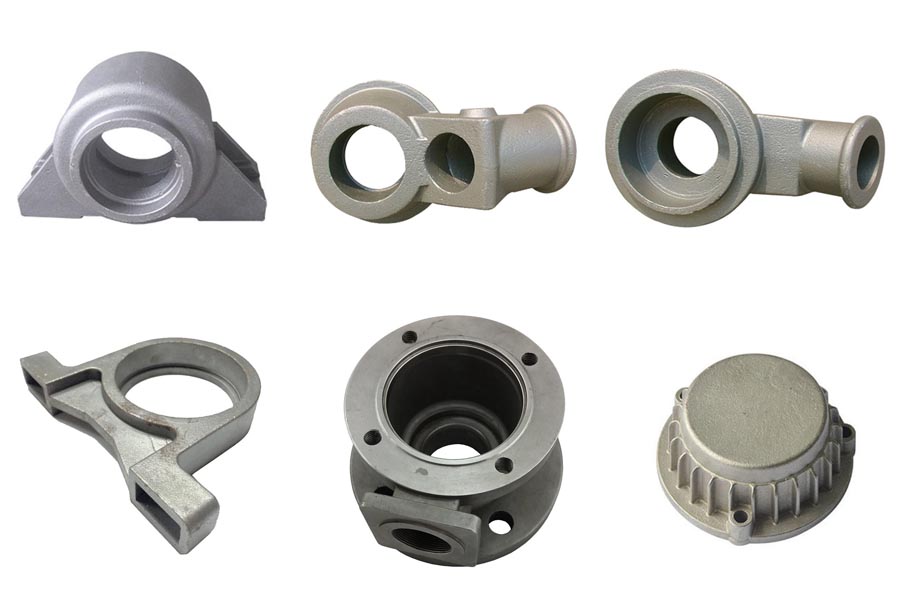 Carbon Steel Castings by Investment Casting
---
---