Heavy Duty Cast Iron Castor Wheel
Product Detail
Product Tags
OEM & ODM Cast Iron Caster Wheel for Heavy Duty Industrial Trolley from China Foundry
Cast iron is an iron-carbon cast alloy with other elements that is made by remelting pig iron, scrap, and other additions. For differentia- tion from steel and cast steel, cast iron is defined as a cast alloy with a carbon content (min 2.03%) that ensures the solidification of the final phase with a eutectic transformation. Depending on chemical specifications, cast irons can be non- alloyed or alloyed. The range of alloyed irons is much wider, and they contain either higher amounts of common components, such as silicon and manganese, or special additions, such as nickel, chromium, aluminum, molybdenum, tungsten, copper, vana- dium, titanium, plus others. Generally speaking, the cast iron could be divided into gray iron, ducitle iron (nodular iron), white cast iron, compacted graphite iron and malleable cast iron. 
What Grades of Cast Iron We Pour for Cast Iron Castor Wheels
• Gray Iron: HT150, HT200, HT250, HT300, HT350; GJL-100, GJL-150, GJL-200, GJL-250, GJL-300, GJL-350; GG10~GG40.
• Ductile Iron or Nodular Iron: GGG40, GGG50, GGG60, GGG70, GGG80; GJS-400-18, GJS-40-15, GJS-450-10, GJS-500-7, GJS-600-3, GJS-700-2, GJS-800-2; QT400-18, QT450-10, QT500-7, QT600-3, QT700-2, QT800-2;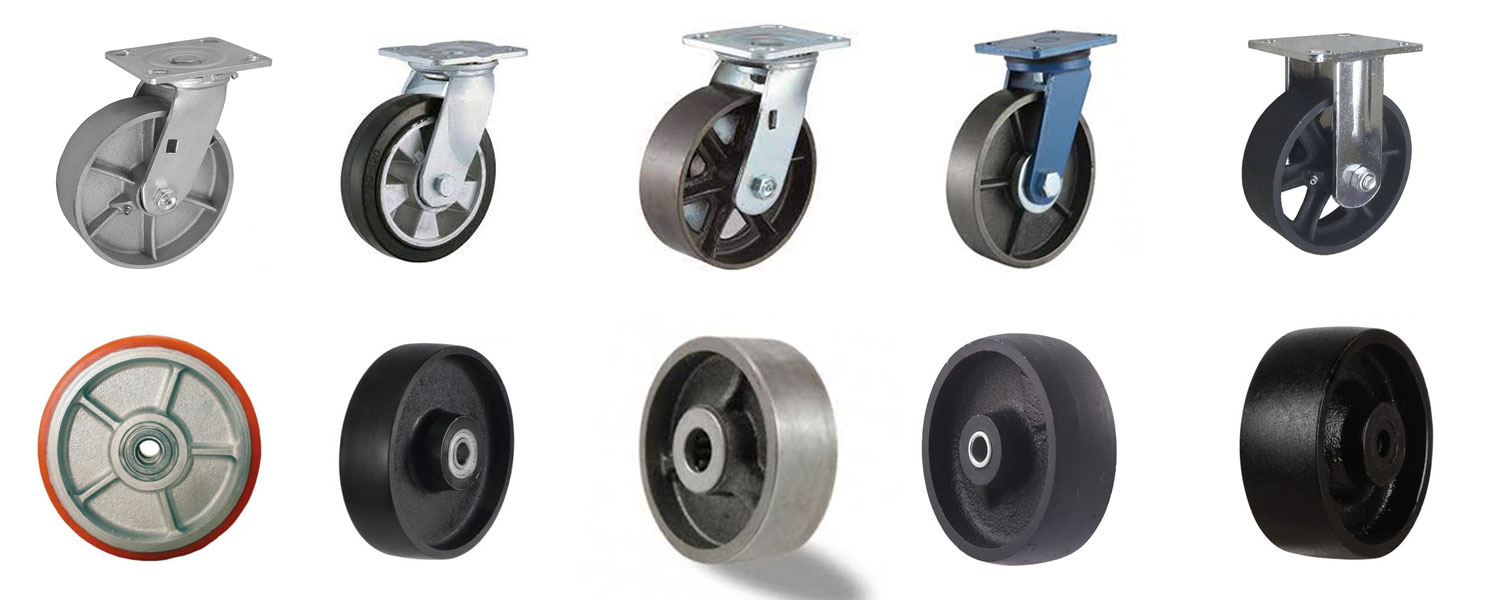 Cast Iron Grade for Sand Casting Processes

Metal & Alloys

Popular Grade

Gray Cast Iron

GG10~GG40; GJL-100 ~ GJL-350; 

Ductile (Nodualar) Cast Iron

GGG40 ~ GGG80; GJS-400-18, GJS-40-15, GJS-450-10, GJS-500-7, GJS-600-3, GJS-700-2, GJS-800-2

Austempered Ductile Iron (ADI)

EN-GJS-800-8, EN-GJS-1000-5, EN-GJS-1200-2
What Further Processes We Can Make After Raw Castings:
• Deburring & Cleaning

• Shot Blasting / Sand Peening

• Heat Treatment: Normalization, Quench, Tempering, Carburization, Nitriding

• Surface Treatment: Passivation, Anodizing, Electroplating, Hot Zinc Plating, Zinc Plating, Nickel Plating, Polishing, Electro-Polishing, Painting, GeoMet, Zintec

• CNC Machining: Turning, Milling, Lathing, Drilling, Honing, Grinding,
Sand Casting Capabilities at RMC Foundry

Description

Molding by hand

Molding by Automatic Machines

Max size of Castings

1,500 mm × 1000 mm × 500 mm

1,000 mm × 800 mm × 500 mm

Casting Weight Range

0.5 kg - 1,000 kg

0.5 kg - 500 kg

Annual Capacity

5,000 tons - 6,000 tons

8,000 tons - 10,000 tons

Casting Tolerance

On Request or Standard (ISO8062-2013 or GB/T 6414-1999)

Molding Materials

Green Sand, Resin Coated Sand

Casting Metal & Alloys

Gray Iron, Ductile Iron, Cast Steel, Stainless Steel, Al Alloys, Brass, Bronze...etc. 
---
Previous:
Grey Cast Iron Pulley by Sand Casting
---